I have mentioned this a few times already but it's such a big deal to me that I think it deserves it's own post.
I, Amanda Rose, for the first time in my 22 years of life, am getting an apartment of my very own.
This is a triumph.
Now, I've moved from my moms house before.
Both failed attempts...both probably some of the worst decisions I've ever made in my life.
But the third time is the charm, right?
This is a total different story though.
My name is the only one on the lease, all of the bills are in my name
Everything is 100% mine...well, and Nick's too.
We've begun buying and refinishing furniture and bedding and packing and organizing.
As a matter of fact, we've just returned from a wonderful pilgrimage to my lovely local Target.
I've always said I could do a whole place from an aisle in that store.
And I just about have. What do you think?
See all the red little Target tags? Those are signs from God on good deals!!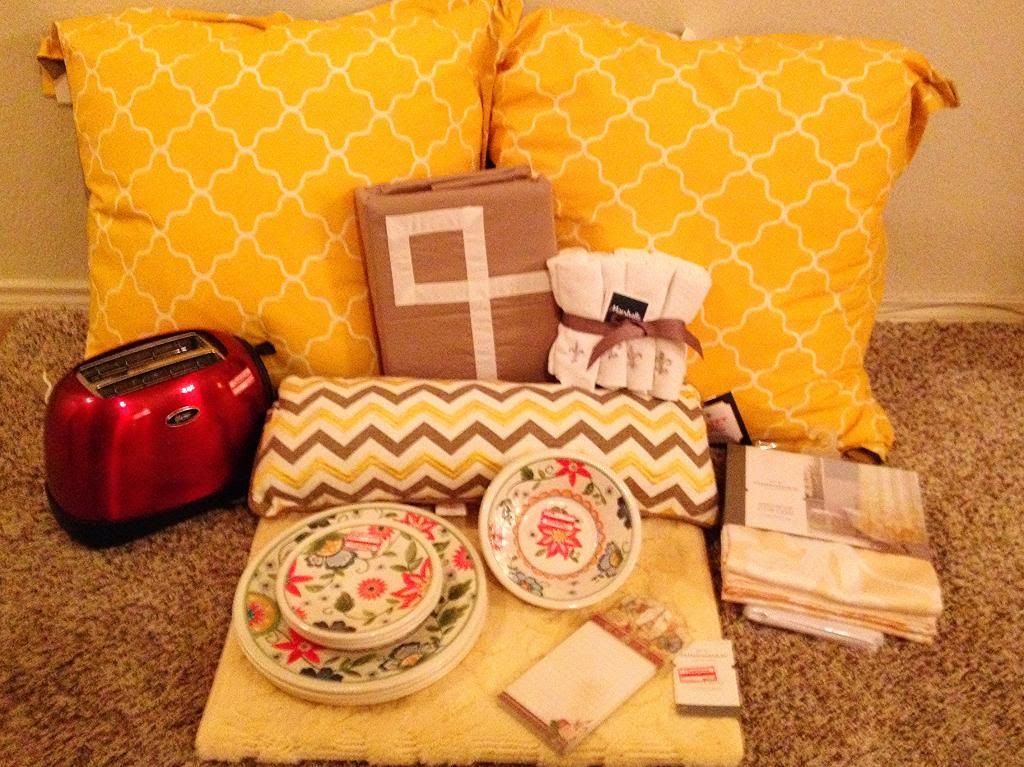 Duvet Set, Throw Pillow and Large Pillows from JCPENNY
Shower curtain, dishes, bath rug, and toaster from TARGET
Face towels and note pad from MARSHALLS.
None of this would be possible without the people in my life.
I'm understanding the meaning of
"It's better to have a few great friends rather than many shitty friends"
Or something like that.
This post is a huge thank you to all of the people that have helped me get to this point.
From all of the little things like, setting up a new savings account and direct deposit,
Taking a day off on a busy day of work to help me move my stuff,
To paying to get my car fixed when I couldn't.
To watching Nick all day, for two weeks so could save a little more money on daycare.
To hurting me the most I've ever been hurt before to realize I need to change my life and begin moving in a direction.
My own direction and not yours.
And the biggest thanks of all goes out to my Mother.
Queen Bee.
I would not be where I am if it weren't for you.
You've helped me more than I have ever deserved
and all of the times you said "I'm not buying that" you end up paying for it anyway.
Because of the confidence and strategy you've given me
I'll finally have a beautiful place of my own and I cannot thank you enough for that.

I will be posting more in the next week on how I'm gonna do up the new pad and the elbow grease that's going into it.
xoxothanks.