The mission today was 1. A Kitchen table.
Preferably one that I could chalkboard much to my mother's dismay.
2. A TV stand or entertainment center.
And of course we walked out of every store with everything but our mission.
On the other hand!!
I now have drinking glasses, wine glasses, beer mugs, and some suuuper cute picture frames.
The search for a kitchen table started to seem hopeless...
Then it was time for lunch!
My mom is a pro at yelp and Fort Worth is a schmorgus board of cute local gems.
Everyone let me introduce you to M&O Station Grill.
Their famous Blue Cow Burger...Oh...My...Gosh. No words. Just look.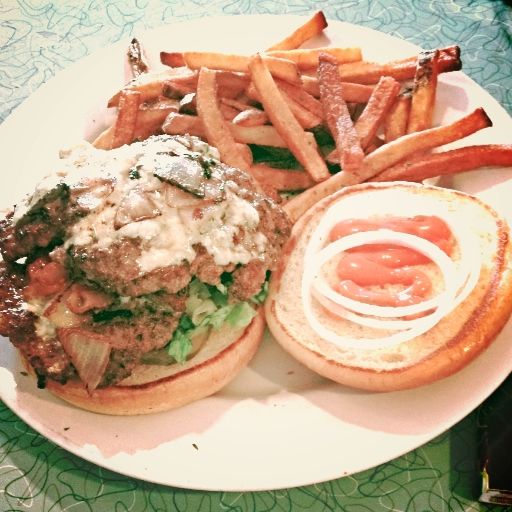 I much prefer diner style burgers over gourmet burgers any day.
This place was a little hidden but so worth the little search.
Literally right around the corner from Montgomery Plaza in Fort Worth.
The owner, Danny, total bad ass. Nicest man made us feel right at home.
The minute I took one bite, I knew I had to tell everyone about it.
I literally wrote my Yelp review at the table. (follow my link on the right)
We tried to drag Andy out to come and eat with us but he's a turd.
Distraction after distraction lead us to stray away from the original plan. Kitchen table. TV stand.
But Andy needed to go to the mall. On ward we went!
And watched all the good deals unfold.
Now for being someone with little to no money, I sure did get a lot of stuff!
But the real issue with the mall is that in this, somewhat small town that I have lived in for 14 years,
One is bound to run into someone you know.
And for me, having done a lot of stupid things in this town, I don't really want to run into everyone I knew.
It's an ironic situation once you've turned a new leaf that you run into the girl who's boyfriend you once had a fling with, without her knowledge.
Though she had no idea who I was, I definitely knew who she was and the little boy she was pushing around who happened to be the common thread in me knowing her loving "other half".
Maybe every girls guilty of having a shameful tryst. I've had a few.
I was happy to reflect on the fact that; on one hand, I wanted to tell someone I had seen her, but on the other I was proud that any of the people that would have known, are out of my life. And for good reason.
Also, they are one of the reasons I met Chris...(not going there. happy thoughts happy thoughts)
-Back to today's mission.-
Dinner at the aunt's house lead us to some old unused furniture in her garage.
And suddenly hope was returned.
Awesome entertainment center.
Sweet little vintage metal diner looking table with 4 matching chairs and an end table.
Search is over in one fowl swoop. Thank you Aunty Ronnie!
Managed to scoop up a little helper along with it. Haley came to join us for a little girls night and serious packing to do tomorrow.
Don't know how much good a 17 year old girl will do with a brand new cell phone but it'll be fun nonetheless.
Mommy had us stop at
Avoca
on the way home.
Perfect way to end the day followed by my recliner and the new HBO show True Detective.
I'll let you know what I think of it, McConaughey and Harrelson, a duo for premium television if I've ever heard of one!!
Packing up tomorrow-
S
E
V
E
N
M
O
R
E
D
A
Y
S
!
!